TP-LINK TL-WA5110G High Power 54Mbps Wireless Access Point
Need advice? Speak to a TP-LINK expert.
Call Jon on 01908 760794
Though discontinued, similar products are available from TP-LINK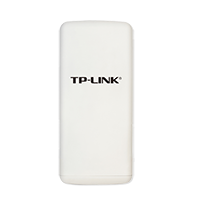 Take the guess-work out of your networking and book a free TP-LINK WiFi network site survey
The TP-Link TL-WA5110G Wireless Access Point is dedicated to Small Office/Home Office (SOHO) and long distance wireless networking environments. It integrates the functionality of a Wireless Access Point, WISP Client, Firewall, and NAT-Router all in one solution. With its high output power and high RX sensitivity, the TP-Link TL-WA5110G can significantly extend the wireless transmission range to reduce dead spots and to deliver a more stable wireless connection.
Key Features
Supports AP Client Router, AP Router and AP operation mode.
High output transmission power and reception sensitivity optimised.
Supports WISP Mode (PPPoE client on wireless interface).
Supports Passive Power over Ethernet.
Supports Wireless Distribution System (WDS).
Distance Adjustment for long range transmission, up to 50km.
Supports Antenna Alignment & Layer 2 User Isolation.
Provides throughput monitor indicating the current wireless throughput.
Supports PPPoE, Dynamic IP, Static IP Internet Access.
Built-in NAT and DHCP server supporting Address Reservation.
Supports UPnP, Dynamic DNS, Static Routing, VPN Pass-through.
Supports Virtual Server, Special Application and DMZ host.
Provides 64/128/152-bit WEP, WPA/WPA2, WPA-PSK/WPA2-PSK data security and TKIP/AES encryption.
LAN ACL (Access Control List).
Multiple Operation Modes
The TP-Link TL-WA5110G 54Mbps High Power Wireless Access Point provides three operation modes for multiple users to access the Internet; 'AP client router mode' to work as a WISP CPE, 'AP router mode' to access the Internet via an ADSL/Cable Modem and 'AP mode' which works in various modes, such as Access Point/Client/WDS Bridge/Repeater.
Versatile Access Point
Bundled antenna alignment tool, which enables the best transmission and reception signals for superior wireless performance.
Bundled power injector also provides flexible installation options in hard-to-wire locations.
Integrated two useful tools: Speed Test and Throughput Monitor, user can easily get the operation information of access point without setup professional test software.
Supports Ping Watch Dog which enables the device to reboot itself if the device has any errors. This self-recover feature reduces the time spent manually configuring the device.
Bundled Client Isolation function protects the security and privacy of each individual subscriber. Therefore, subscriber does not need to worry about hacker attacks in the same wireless network.
Wireless Security
With the most robust wireless security, the TP-Link TL-WA5110G Wireless Access Point provides multiple protection measures. It can be set to turn off the wireless network name (SSID) broadcast so that only stations pre-configured with the SSID can be connected, as well as providing the latest wireless LAN 64/128/152-bit WEP, WPA/WPA2, WPA-PSK/WPA2-PSK and TKIP/AES encryption security.
Easy to Setup
The TP-Link TL-WA5110G comes with a CD with an Easy Setup Assistant that helps you step by step to complete your Internet connection, wireless network settings and security configurations. This feature allows even novice users to setup the router products without sacrificing any key features, just play the AUTO-RUN CD bundled to have your network set up quickly and hassle-free.
Standard warranty: 3-years