ZyXEL PLA5215 AV2 600 Powerline/HomePlug Starter Kit w/ Pass-Through
Though discontinued, similar products are available from ZyXEL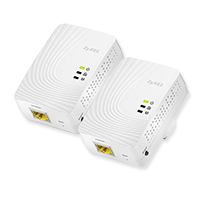 The ZyXEL PLA5215 AV2 600 HomePlug starter kit with Pass-thru improves networking performance by more than 20% comparing with the 500 Mbps powerline technologies for better multiple HD media streaming. Just plug this pair of ZyXEL PLA5215 HomePlug adapters into the electrical outlets and connect to your network devices, you can immediately enjoy HD multimedia streaming, multiplayer gaming and other network applications simultaneously in every room.
Key Features
The newest HomePlug AV2 standard enables powerline networks with up to 600 Mbps data transfer rates
SmartLink Plus enhances performance and coverage through multiple-path transmission
Plug-and-Play design for connecting smart TVs and game consoles
AC pass-through design with embedded noise filter for reduced power interference
Compliant with IEEE 1901 and HomePlug AV technology
QoS enhances media streaming quality
Encrypt button for easy security setup
128-bit AES encryption for network security
Multi-colour LED identifies powerline network quality
Power-saving mode reduces energy waste
TR-069 standard for remote management and automatic configuration updates
HomePlug AV2 with Gigabit Ethernet port
With the latest HomePlug AV2 technology, the ZyXEL PLA5215 HomePlug starter kit provides speeds of up to 600 Mbps and backward compatibility with HomePlug AV- and IEEE 1901-based products. In addition, each ZyXEL PLA5215 is equipped with a Gigabit Ethernet port to provide a stable high-performance network for simultaneous HD streaming, gaming and Web surfing. You can easily extend Internet access to any room with just a power outlet.
AC pass-through design with embedded noise filter
The AC pass-through design provides the convenience to deploy a home network without compromising the existing power outlets by minimizing the interference from other home electric devices. The embedded noise filter also enables the ZyXEL PLA5215 HomePlug to suppress noise from all connected electronic equipment to enhance network quality for multimedia streaming.

QoS enhances media streaming quality
The advanced Quality of Service (QoS) feature improves the quality of multimedia streaming applications such as triple-play services by traffic prioritizing HD video streaming, high-speed Internet access and VoIP services.
Standard Warranty: 2-Years