Linksys BEFSR41 4 Port Broadband Router
Need advice? Speak to a Linksys expert.
Call Jon on 01908 760794
Though discontinued, similar products are available from Linksys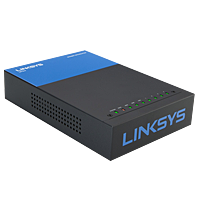 The Linksys Instant Broadband EtherFast Cable/DSL Router is the perfect option to connect a small group of PCs to a high-speed Broadband Internet connection or to an Ethernet back-bone. Configurable as a DHCP server, the EtherFast Cable/DSL Router acts as the only externally recognized Internet device on your local area network (LAN).
The router can also be configured to block internal users' access to the Internet. Unlike a typical router which can only share 100Mbps over all its connections, the Linksys EtherFast Cable/DSL Router is equipped with a blazing 4-port EtherFast Switch, dedicating a breakneck 100Mbps to each and every connected PC. If four PCs are simultaneously accessing a standard shared-band-width router, they will only run at one-quarter the speed of any number of PCs accessing the Instant Broadband Cable/DSL Router.
Not only will all of your PCs now be able to enjoy your lightning-quick Broadband Internet connection, they will also be able to share internal network data at ten times the Broadband Internet speed. Add it all together and your small network will move along faster than you ever thought possible.
Award Winner - Wins PC World magazine Best Networking Product of the Year 2000 - 31/5/2002
Please note : This router doesn't have a built-in ADSL modem. You would need an external Ethernet ADSL modem for this router to work on ADSL in the UK
This router works with XBOX Live.
---
Hardware Platform
Specifications
Router Features
Connects to a Cable Broadband Modem, a 10/100 Ethernet backbone or Wireless Network
NAT Firewall to protect your PCs from outside intruders
Supports IPSEC Pass-thru and PPTP
Internal 4-Port Switch dramatically speeds up your gaming and multimedia connections
Able to ACT as a DHCP server for your existing Network
Administrators can block specific Internal Users' Internet access with filtering
DMZ (Demilitarised Zone) - For pass-through of all protocols/data to a single internal host
Management Features
Easy to use web-based setup
Flash-Upgradeable memory for firmware upgrades/enhancements through Web/TFTP
Logs MAC addresses/errors/packets
LAN Ports
Ethernet 10/100 Mbps 4 port switch
WAN Ports
Package Contents
Linksys BEFSR41 Broadband Router
RJ45 - Ethernet network cable
UK Power supply
Setup CD-ROM with user guide
Quick start guide
Registration card