Draytek Vigor 2500 SOHO ADSL Router
Though discontinued, similar products are available from DrayTek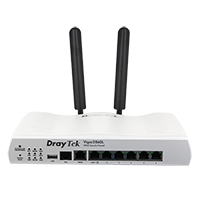 The Draytek Vigor 2500 ADSL router is designed to be the ideal ADSL-sharing and firewall device for to the SoHo (Small Office / Home) user. It combines performance, features and price into an attractive, relible and easy-to-use product, with the pedigree and thoughtful design Draytek are renowned for.
Draytek Vigor 2500 Enhanced Firewall
The Draytek Vigor 2500 includes full packet-level firewall facilities, not just the inherrent 'NAT' security and port-blocking of other routers. This includes 'keep state' packet methods; put simply, this means that when a packet is sent out, a reciprocal record is kept to allow a packet coming back in the opposite direction, but a default 'deny' policy means that any packet arriving which appears unsolicited won't get through. The Draytek Vigor 2500 series also features automatic protection from Dos/DDos (Denial of Service/Distributed Denial of Service) attacks and IP anti-spoofing & User-definable filters also allow you to add additional protection to your connection. For added confidence, potential or foiled attacks are logged and can be reported via the router's syslog facility.
Windows UPnP Compatible
The Draytek Vigor 2500 supports Microsoft's uPnP technology. This is a protocol to enable applications behind the firewall to open ports necessary to communicate with remote users. This is of particular use with Peer-to-Peer (P2P) applications such as MSN Messenger. This enables users to make full use of user-to-user audio and video teleconferencing and application/screen sharing without having to manually set up 'open ports' or port redirections for each application and each user. Currently Microsoft offer uPnP on Windows XP only. uPnP is different from PnP, which Windows users have used for several years to enable PCs to recognise attached peripherals automatically. uPnP is about 'firewall discovery', gateway awareness at the O/S level, and automatic opening for traffic for applications.
Draytek Vigor 2500 Ethernet Switch
The Draytek Vigor 2500 has a built-in four-port Ethernet switch to connect to your PCs. It is auto-sensing (10/100BaseT) and can run full or half-duplex. Additionally, any of the ports will automatically detect a crossover cable, or uplink to another switch/hub and switch to 'uplink' mode when required - no need for crossover cables or special ports. If you have more than four PCs, you can easily uplink into a larger switch or hub.
Built-in Test & Diagnostics
The Draytek Vigor 2500 has a plethora of diagnostic and logging tools to help you monitor your router, line and keep it all running at top performance. The internal logs of the Vigor can be viewed at any time (via the telnet interface) as well as real-time reporting of NAT/DHCP allocations / mappings and line quality from the web interface.