Belkin F7D4101ED Play Wireless-N USB Adapter (300Mbps)
Though discontinued, similar products are available from Belkin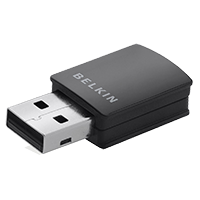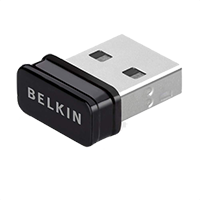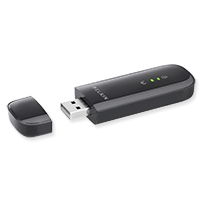 The Belkin F7D4101ED Play Wireless-N USB Adapter connects your laptop or desktop computer to your wireless network. When matched with a Belkin Play or Play Max Wireless Router (sold separately) at the center of your network, you'll have the fastest speeds possible to easily stream HD video or game online.
Key Features
USB adapter connects your Windows PC or laptop to a Belkin Play wireless network
Lets you stream email, surf the Web, instant message or share photos wirelessly
Supports speeds up to 300 Mpbs on wireless-n networks
Preconfigured security: Wi-Fi Protected Setup, 256-bit WPA/WPA2 and 64/128 WEP encryption
Backed by Belkin's 2-year limited warranty and 24/7 tech support
Convenient, USB Design for Hassle-free Network Expansion
The Belkin F7D4101ED Play USB Wireless Adapter utilizes a standard USB 2.0 bus-power interface, which means that you can use it to connect virtually any computer with a USB 2.0 port to your network. It features a sleek, black design that's unobtrusive, and an LED power and network link/activity indicator that lets you know when it's in use.
This makes it easy to take advantage of all the things that a Belkin wireless network can help you and your family or office-mates do. You'll share resources, including files, external hard drives, and printers, among all the connected computers on your network in no time--no cables or complicated setups required.
Preset Security Settings for Worry-free Surfing
The Belkin F7D4101ED Play USB Adapter is preconfigured with 256-bit WPA/WPA2 encryption and 64/128 WEP encryption, so your sensitive data will remain safe and secure. It also features one-touch Wi-Fi Protected Setup (WPS) means that securely connecting multiple users to your network is as easy as pressing a single button.
High-speed Performance with Wireless-N 300 Technology
Whether you're surfing image-rich websites, sending a flurry of emails, or instant messaging far-off friends, using a Belkin Surf or Share router and this adapter with your wireless-N network delivers the fast speeds that you need. 802.11n technology gives you speeds of up to 300 Mbps--that's five times the speed of G technology.
The Belkin F7D4101ED Play USB Adapter is also backward compatible with 802.11a/g devices at 54Mbps as well as 802.11b products at 11Mbps.
Easy Installation Gets You Online Quickly and Securely
Connecting your computer to your wireless network for the first time takes just a few minutes. Simply insert the included installation Software CD into your CD-ROM drive, follow the straightforward Belkin Wizard directions, and insert the Belkin F7D4101ED Play USB adapter when prompted.