D-Link DWM-156 3G HSUPA USB Modem (Unlocked)
Though discontinued, similar products are available from D-Link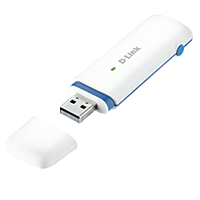 D-Link DWM-156 3G USB Modem allows you to connect your notebook to your mobile broadband service wherever you are in the world. While connected, you can transfer data, stream media, and send SMS messages. The D-Link DWM-156 3G USB Modem is completely unlocked and works with the majority of data SIM cards from any operator.
Key Features
Based on HSUPA 3G technology: up to 7.2 Mbps data transfer speed
Fast USB 2.0 interface
Operating Systems: Windows VISTA/XP/2000 and MAC OS X 10.4 and higher
Built-in drivers for true plug-and-play installation
Works as a 3G modem for use with selected D-link routers
Unlocked: works with data SIM cards from any operator
Optimal performance with 3.5G HSUPA technology
The D-Link DWM-156 3G USB Modem supports the latest 3.75G High Speed Uplink Packet Access (HSUPA) technology, which offers data rates up to 7.2 Mbps (5.76 Mbps upload) and helps to reduce latency. 3.75G is also backwards compatible with 3.5G, 3G and 2.5G technologies.
Total compatibility
This D-Link DWM-156 3G USB Modem is compatible with Windows and MAC Operating Systems: all the necessary drivers and software are built in, making the installation truly plug-and-play. You can also use the D-Link DWM-156 to act as a modem on compatible D-Link routers and share the 3G connection between several computers or Wi-Fi enabled devices.
Practical Compatibility
The D-Link DWM-156 3G USB adapter also doubles as a MicroSD card reader for optional removable storage, allowing you to take both your network and your files with you wherever you go. Better yet, the device is small enough to fit in your pocket - no batteries, cables, or additional hardware required.
Effortless Installation
Device drivers and software are built into the device making installation fast and simple. The included software provides access to telephone numbers and messages stored on the SIM/USIM card. Ideal for international use, the user interface supports multiple languages including English, Japanese, Chinese, Russian, French, Portuguese, and Spanish.